June has been bursting out all over and it makes us appreciate what a really beautiful country we live in...
Holly Mount Orchard
The blossom on the trees this year is truly amazing and well worth the long, long wait. Lets hope we'll have a bounty of fruit this year too. Unfortunately bees are still struggling and off to a late start but at least those in the orchard have plenty of nectar and pollen to feed their young! Orchard Sundays have been picking up pace with a good show of faces and plenty of progress being made by all.

See snaps from April, May and June to catch up on what we've all been upto!
---
Scout Community Week - Do 1 Thing
This is the first year we've been involved in Scout Community Week and we're very glad we got the opportunity, in the end we recieved help from Tottington Girl Guides, St Andrews Cubs and the Ramsbottom Explorer Scout Unit!
At Holly Mount Orchard the entrance steps were completed, a new water butt and gutter for our greenhouse got installed, weeds were chopped and bonfires got burnt. We had a fabulous time with an INCREDIBLE bunch of kids (and adults) and hope to see some of them on a regular basis. We're also looking forward to seeing the results of all the hard work that was put into our wildflower patch and will post pictures of its development soon. We're very grateful to all the groups who've helped and look forward to future projects.
---
It seems we spend all spring coaxing our seedlings and plants to grow and then in June we're shouting 'Get back', so there's plenty of work for our volunteers, weeding and replanting the plots, especially as this year we're entered in the 'It's my Neighbourhood' competition as part of RHS Britain in Bloom. Judging is on 8th August so we really need your help to get the plots productive and beautiful.
We're also working with Peel Brow School on two large containers planted with edibles to be displayed in the Bury in Bloom competition.
---
Tottington's Big Day Out
We're joining Incredible Edible Tottington with a stall at the Tottington Music Festival on 7th July from 1-6pm. Please let us know if you can help out on the day even if it's just for an hour or so, or if you have any surplus plants you can donate.
---
Incredible Edible Beer Garden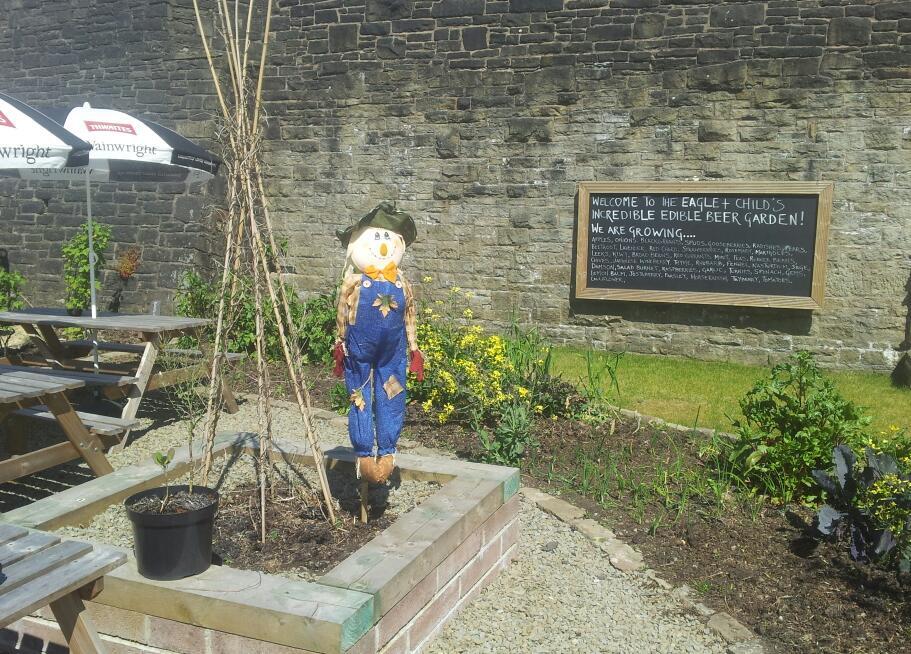 A series of workshops are being planned in partnership with Glen at the Eagle + Child.
So far they include: making raised beds; composting; foraging; green roofs; dry stone walling and mushroom growing.
Please let us know if there's something you would really like to take place or that you think would be good to have as a workshop or talk.
---
Incredible Edible Network
Incredible Edible has nearly 50 groups across the UK and hundreds worldwide with the movement stretching from Canada to New Zealand.
The Incredible Edible network is an umbrella group for members who believe that providing public access to healthy, local food can enrich their communities. Find out more by visiting the new IE network website.
---
If you would like to give us a hand we meet regularly on:
Monday 7pm-9pm
*during the summer
Holly Mount Orchard
Thursday (6.30pm -7.30pm)
*during the summer
Rammy plots
(Check our Facebook page or keep an eye on Twitter, search for #IncredibleEdible #Ramsbottom to find out exactly where we are! Failing that feel free to text or call Rachel on 0785 4010781 or Lynn on 01706 825332)
Friday (11am-12noon)
Peel Brow School
Saturday (10am-11am)
Eagle + Child
Sunday 1st in the month (1-4pm)
Holly Mount Orchard
Happy Growing and Eating
Lynn and the IER team